INFORMATION ON THIS PAGE IS ONLY FOR PATIENTS PRESCRIBED BRONCHITOL AND THEIR CARERS
Information for patients prescribed Bronchitol
Bronchitol contains a medicine called mannitol which helps to clear the mucus in the airways of adults with cystic fibrosis (CF). It can be used in combination alongside other medicines for CF.
Your healthcare professional has prescribed Bronchitol to help clear mucus from your airways.
This page is designed to give you some key information about using Bronchitol, but please remember to read the Patient Information Leaflet inside the pack before starting your treatment.
Bronchitol is manufactured by Pharmaxis in Australia and distributed in the UK and Ireland by Chiesi Limited.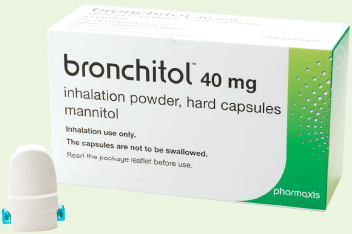 Mucolytics in cystic fibrosis
In the video below, you will learn more about the respiratory system and how CF affects the fluid that lines the airways and lungs.
You will see how some treatments, called "mucolytic agents" help to make the mucus less thick and easier for the lungs to clear it.
ABOUT BRONCHITOL
What is Bronchitol?
Bronchitol contains an active ingredient called mannitol, which is a type of sugar alcohol.
Bronchitol comes with a small dry powder inhaler which is portable and convenient.
What does Bronchitol do?
Bronchitol is a mucolytic which helps clear the mucus when you cough. This can help improve your breathing.
Bronchitol is normally prescribed as an additional medicine, alongside existing products you are taking for your CF.
When should Bronchitol be taken?
The usual dose is 10 capsules (400 mg) inhaled in the morning, and 10 capsules inhaled in the evening.
You should have the evening dose at least 2 to 3 hours before you go to bed.
For the best results, inhale each capsule one after another, so there is as little delay as possible between capsules.
You should keep taking Bronchitol in the way your doctor has told you, until they tell you to stop.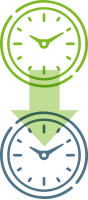 What should I do if I miss a dose?
If you forget a dose, take it as soon as you remember. However, if it is nearly time for your next dose, skip the missed dose.
Do not take double the dose to make up for a missed dose.
How should I take Bronchitol?
It's important that you inhale Bronchitol correctly using the inhaler provided in the box.
Top tips for inhaling Bronchitol:
Angle of inhalation: Tilting the head back opens the airways to minimise the chance of an irritant cough*
Timing: The contents of the capsules should be inhaled closely together*
Water between capsules: Sipping water between capsules helps to clear the throat*
You'll find step by step instructions, with pictures, on how to take your Bronchitol on the patient information leaflet which comes inside the packaging, or you can also view instructions below:
You can also use the following step-by-step guide to assist you when you take Bronchitol.
It's recommended you use Bronchitol as part of your normal daily treatment routine, and as advised by your doctor.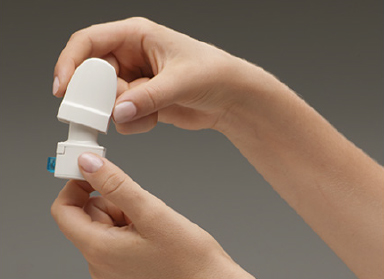 1. TAKE OFF THE CAP
Using both hands, hold the inhaler upright and take off the cap.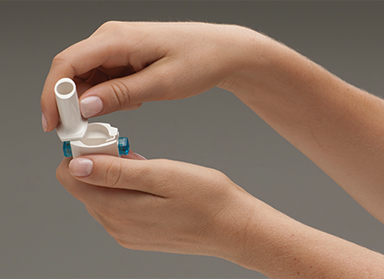 2. OPEN THE INHALER
Hold the bottom of inhaler firmly with one hand, making sure you don't press piercing buttons
Open by turning mouth-piece in direction of arrow on inhaler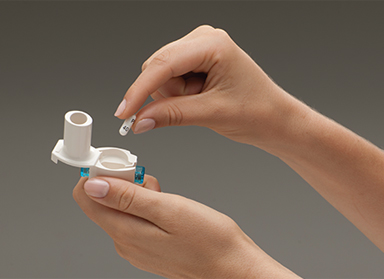 3. PUT IN THE CAPSULE
First, make sure your hands are dry
Then remove capsule from blister just before use
Put the capsule into capsule-shaped space at bottom of inhaler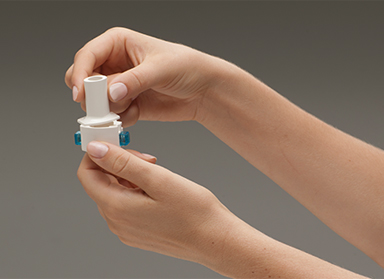 4. CLOSE THE INHALER
Keep inhaler in an upright position
Twist mouth-piece into closed position – when it is closed you will hear a 'click'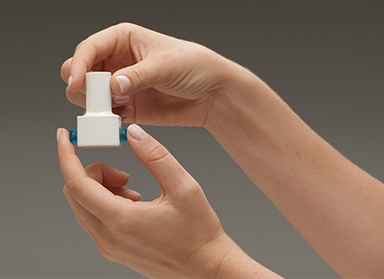 5. MAKE A HOLE IN THE CAPSULE
Hold inhaler upright and fully press both 'piercing' buttons on the sides at the same time, then release (this allows the powder in the capsule to be released when you breathe in).
Only do this once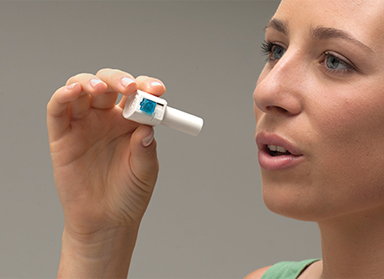 6. PREPARE FOR INHALATION
Tilt inhaler so mouth-piece faces slightly downward, which allows capsule to drop forward into spinning chamber
Keep inhaler tilted in this way and breathe out completely away from inhaler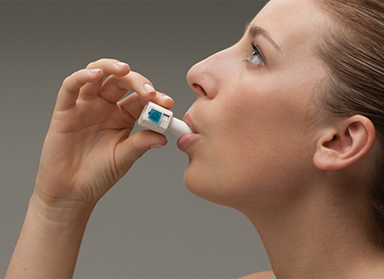 7. INHALE
Tilt your head back slightly
Put downward-tilted inhaler in mouth and close lips tightly
Take steady, deep breath in, fill lungs – hold for 5 seconds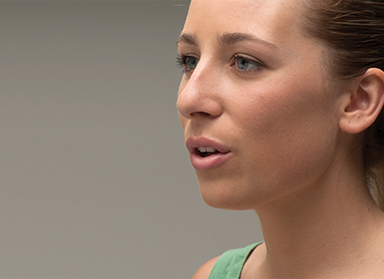 8. BREATHE OUT
Take inhaler away from mouth
Breathe out, and then breathe normally again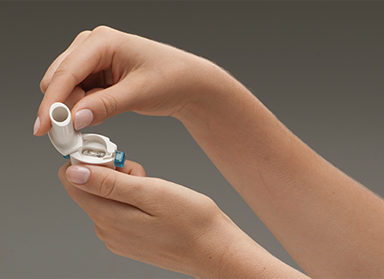 9. CHECK THE CAPSULE
Look to see if capsule is empty – the capsule must spin in inhaler in order to empty
If the capsule is not empty, you may need to repeat steps 6, 7 and 8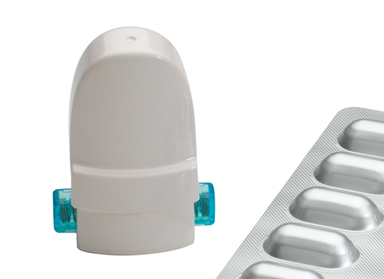 10. TAKE OUT THE USED CAPSULE
Turn the inhaler upside down, tap the bottom and throw the empty capsule away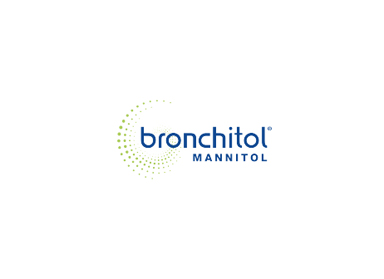 11. REPEAT STEPS 3 TO 10 FOR EACH CAPSULE
Perform these steps for each of the 10 capsules
To get the best results from Bronchitol, inhale each capsule one after another
Supporting information:
*Flume PA et al. Optimising inhaled mannitol for cystic fibrosis in an adult population. Breathe 2015;11(1):39–48.
How long does it take to inhale each dose of Bronchitol?
Once you have been trained on how to take your Bronchitol and have practised the technique, it will take about 5 minutes twice a day.*

Supporting information:
*Flume PA et al. Optimising inhaled mannitol for cystic fibrosis in an adult population. Breathe 2015;11(1):39–48.
How should I store Bronchitol?
Store your Bronchitol below 30°C and in its original packaging so it's protected from moisture.
Does my Bronchitol inhaler need cleaning?
Usually your Bronchitol inhaler should not need cleaning. You should use one inhaler to take the correct dose of medicine for 7 days.
A new device is provided in the box for each week of treatment.
If your inhaler does need cleaning, make sure it is empty and the mouthpiece is open, and wash with warm water.
Shake it to remove as much excess water as you can and leave to air dry for at least 24 hours. Use another inhaler as you wait for it to dry.
What are the possible side effects?
Cough is a very common side effect of Bronchitol (meaning it affects at least 1 in 10 people).
Sometimes not inhaling Bronchitol correctly can make you cough, so it's important that you follow the instructions provided with your Bronchitol to ensure as much of it as possible gets to your lungs (rather than the back of your throat).
Remember you can ask your CF specialist for advice on how to ensure your inhaler technique is working for you.
If you get a persistent cough when taking Bronchitol you should report this to your healthcare professional.
For more information about other potential side effects, please see the patient information leaflet which is provided with your Bronchitol, an online version of this can be found here.
RESOURCES
Remember you should always ask a member of your CF team if you have any questions about your CF or medication(s).
Always take your Bronchitol treatment as prescribed by your healthcare professional.
If you stop taking Bronchitol for any reason, you should tell your doctor as soon as possible.
Remember, you should always ask a member of your CF team if you have any questions
about your CF or your medication(s).
Supporting information: Bronchitol® Patient Information Leaflet. Pharmaxis Europe Limited
IE-CF-2000142 | Nov 2020